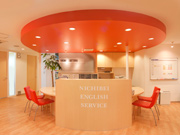 As you can see from our corporate history and our company mission Nichibei strives to excel in certain key areas of the English Communication environment. In particularly we are looking for up beat worldly-wise communicators.
While it certainly is not a prerequisite to have higher level credentials in teaching or the business world, it will be looked upon quite favorably.
Here are some of the specifics we have for the candidates whom are selected to contribute to the Nichibei tradition:
 

Contract

-At Nichibei we have Full-Time,Semi Full-Time and Part Time contracts available.
-All contracts depend on the qualifications and experience of the teacher.

Bonuses

-A number of bonuses, and various incentive programs including our merit based performance program are available at Nichibei.

Transportation

-All transportation costs within reason covered by Nichibei.

Training

-An ongoing system of training and evaluation with advancement, promotion, bonuses and pay raises all determined by a merit based system of evaluation

Vacations and Holidays

-All Japanese National Holidays (Over 12 days)
-Paid holidays according to the Japanese Standard Labor Law.