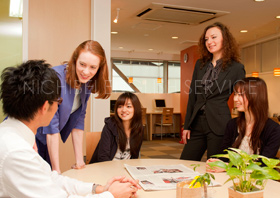 With over 30 years experience in the thriving, upbeat worlds of the Tokyo, Osaka, Kobe and Kyoto markets, Nichibei has established itself as one of the leading institutions of innovative English communication classes for a rapidly internationalizing world. It is our expressed concern to prepare our clients for the international challenges and opportunities of tomorrow. In particular, Nichibei has carved out an elite niche as the premier provider of STEP®, TOEFL® test, TOEIC® test, GMAT® test, GRE® test and various business skills and training certificate curriculums.

We go to GRE® test at efforts to ensure that the above styles of English study are well integrated with a communicative style of English conversation to enable our students to more readily incorporate their newly acquired skills and lessons in daily conversation.
These various programs are often taught by either our Japanese teaching staff, with relevant degree and experience, our Native Speakers of English, or a combination of the two.
This means that the student of today, whether businessman, college student, or overseas hopeful, can take advantage of the latest multimedia lesson materials and curriculums available at Nichibei to further their career or lifestyle aspirations.

Nichibei believes that English is the passport to an ever increasingly interconnected globe. Our mission is to prepare the student of today for the world of communication of tomorrow. Nichibei will provide you with your passport to an international tomorrow.